H13 Tool Steel - DIN 1.2344 - X40CrMoV5-1 - JIS ~SKD 61
What is H13 Steel?
H13, a
hot work
tool steel, can be water cooled, oil or air hardened and has a good toughness. H13 is a
5% chromium
tool steel
that hardens in air and is versatile enough for a broad range of hot and cold work uses. The addition of vanadium increases the resistance to abrasion and imparts superior properties at elevated temperatures.
H13 is often used in cold work tools because of its exceptional toughness, even though it might slightly reduce wear resistance. Apart from its high hot wear resistance and thermal cracking resistance, it also has high polishability, suitable for lens and cutlery molds.
For even
better toughness
and the highest purity and homogeneousness use
H13ESR (ESR = Electro Slag Remelt)
.
Purchase H13 Tool Steel Online
Select Your
Steel Length
below
Imperial and Metric Steel Sizes for Sale
You can easily reach out to one of our order consultants to find the exact steel products you need.
Any Questions?
H13 Tool Steel: Standard values
Working hardness: 50 HRC - 56 HRC
Delivery condition: max. 229HB
Chemical composition in %
H13 Tool Steel: Technical Data
H13 Tool Steel: Technical Properties
Hot work steel with excellent heat resistance and high wear resistance. Good toughness and thermal conductivity. Can be water cooled and is resistant to thermal shock.
H13 Tool Steel: Applications
forging tools and dies, hot shear knives, hot extrusion tools, extrusion press tools, press tools, block receivers, die casting tools, light metal die casting, press mandrels, press dies, piecer plugs, screw production, rivet production, bolts production, ejectors, plastic molds
Chemical designation: Working hardness: 50 HRC - 56 HRC
Delivery condition: max. 229HB

Hot work steel with excellent heat resistance and high wear resistance. Good toughness and thermal conductivity. Can be water cooled and is resistant to thermal shock.
forging tools and dies, hot shear knives, hot extrusion tools, extrusion press tools, press tools, block receivers, die casting tools, light metal die casting, press mandrels, press dies, piecer plugs, screw production, rivet production, bolts production, ejectors, plastic molds
H13 General Information
What is H13 steel used for?
H13 steel
has a multitude of
good properties
which makes this tool steel not only a good choice for high temperatures but in combination with its thermal fatigue and abrasion resistance can be used for casting and extrusion tools, as well as for dies, hot shear blades and stamping tools to name just a few. With a good resistance to thermal fatigue, erosion and wear it is ideal for plastic molds.
Is the H13 tool steel a stainless steel?
While the H13 contains a mass fraction of 4.8 - 5.5% of chrome it is
not a classic stainless steel.
Stainless steels contain a minimum of 10.5% chrome.
Although it provides a certain level of resistance to corrosion, if corrosion resistance is a primary requirement, it would be recommended to choose a stainless steel grade or apply a protective layer.
Is H13 steel magnetizable?
Yes, as a ferrous metal,
H13 can be magnetized
. Grinding, milling and eroding for example can be done on machines using magnetic clamping.
H13 Tool steel heat treatment
Annealing H13 steel
To avoid damage to the surface of the material, anneal it in a controlled atmosphere or pack it in a suitable container, using a neutral packing compound.Heat the part slowly through to
a temperature of 1382-1472°F
(750-800°C).
Lower the temperature of the material gradually.
Decrease it by 50-68°F
(10-20°C) per hour. Continue until it reaches 1112°F (600°C). After it gets to this temperature, it can be cooled more in the air.
Stress relieving H13 tool steel
After rough machining or extensive processing, stress relieving H13 is necessary to prevent distortion caused by introduced stresses.Heat the work pieces to a temperature of
1112-1202°F
(600-650°C).
Keep them at that temperature for 1-2 hours. This should be done in a neutral atmosphere. Then cool the parts at a controlled rate in air. Cooling H13 down slowly is essential as not to introduce new stresses to the work pieces.
Hardening H13 tool steel
Hardening this material improves the H13 steel's mechanical properties.
To control decarburization, use a controlled atmosphere furnace or pack the work piece in an inert material. Heat uniformly to a temperature of 1868-1940°F (1020-1060°C) and hold for 15-30 minutes and quench, following this up immediately with a tempering.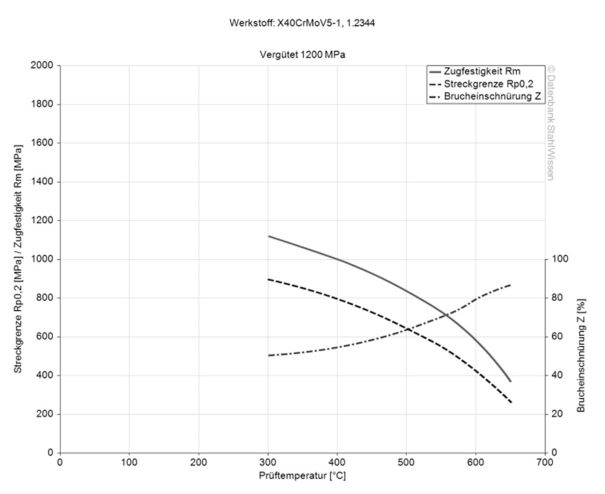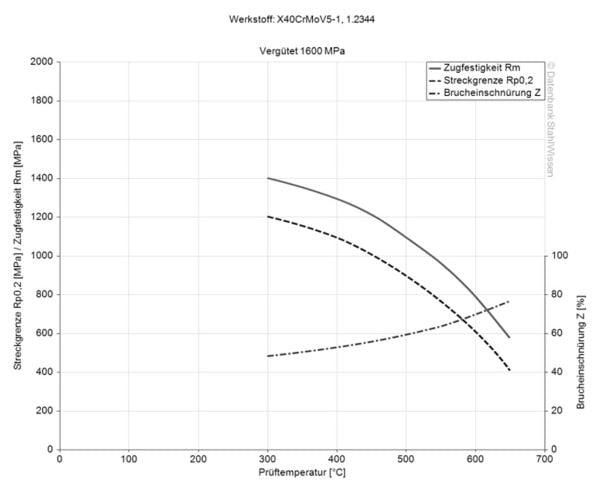 Quenching H13 steel
H13 is typically cooled in air, although it can also be cooled using other substances. When determining the cooling method, factors such as the application, part shape, and size should be taken into account.
• Air• Oil• Vacuum• Hot bath
Tempering H13 steel
Immediately after hardening, heat the material slowly to a tempering temperature for a minimum of 1 hour per inch (25.4 mm) of thickness. Tempering temperature should be at least 50°F (10°C) higher than the expected maximum operating temperature of the workpiece.
Work pieces should be double tempered; a third tempering cycle can be advantageous to relieve stress.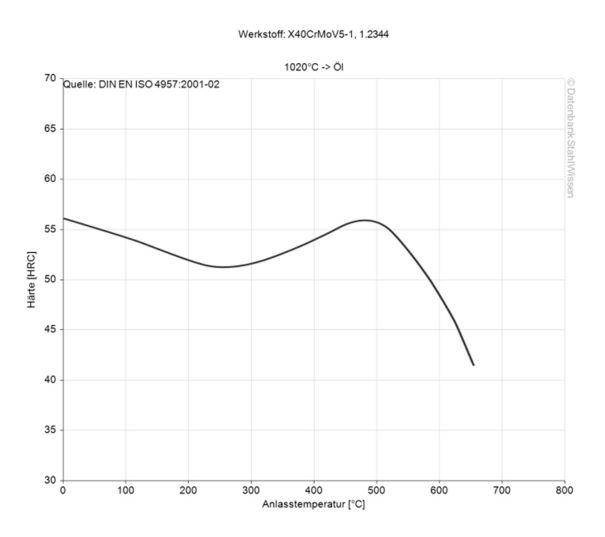 H13 Tool steel dimensional changes
H13, like other tool steels, will hold its size best when quenched from the accurate hardening temperature. Overheated, the material tends to shrink after tempering and should therefore be avoided.
H13 Steel sub-zero treatment
H13 can be sub-zero treated. Instead of tempering the material after hardening it is cooled to sub-zero temperatures and held to transform the retained austenite to martensite.
Benefits, for H13, apart from a refined carbide structure are increased hardness and wear resistance as well as improved dimensional stability. To relieve possible newly introduced stresses, the sub-zero treatment should be followed up by tempering as explained above.
H13 Steel Electrical Discharge Machining (EDM)
H13 can be machined in the annealed or hardened condition by EDM.
Tempering after EDM might be needed as heat affected zones can have different properties to the base material. EDM can give the H13 tool steel a very smooth surface with the right settings and conditions.
H13 Steel surface treatment
The following are just an example of a variety of surface treatments for the H13 tool steel. Choosing a surface treatment does depend on the application for which parts are used.
Nitriding H13 steel
To improve wear resistance and fatigue life, H13
can be nitrided
. This process introduces nitrogen into the surface and can offer some corrosion resistance and does reduce the need for frequent lubrication for moving parts.
H13 Carburizing / Case hardening H13 steel
Though not as common as nitriding, this process introduces carbon into the material surface giving it extra surface hardness with a tough core.
Black oxide coating H13 steel
This process forms a black oxide layer giving this material grade some corrosion resistance. Further the black layer gives pieces, exposed to light, a low reflective surface as well as an aesthetic appearance.
H13 Steel PVC and CVD coating
To reduce friction and improve the wear resistance and corrosion resistance, H13 is coated by PVC (
P
hysical
V
apor
D
eposition) or CVD (
C
hemical
V
apor
D
eposition). Both processes introduce a thin film of material onto the surface of the workpieces.
H13 Tool steel machinability
Forging H13 steel
Slowly and uniformly heat the material to a
temperature of 1900-2050°F
(1038-1121°C). Do
not let the temperature drop below 1650°F
(899°C), if necessary, reheat to maintain the proper forging temperature.
Cool small and simple parts slowly in lime. Larger parts should be cooled down in a heated furnace at a uniform temperature of 1450°F (788°C), then turn the furnace off and let the parts cool down or use insulating material to cool it slowly.
Note, this is not an anneal, annealing should be done after the forgings are cooled down.
Welding H13 tool steel
Good results can be achieved when welding tool steel, if the proper precautions are taken during welding (increased working temperature, joint preparation, choice of filler metals and the welding procedure). If the parts are being polished or photo-etched, it is necessary to work with a suitable electrode type of matching composition.
H13 Steel wear resistance
The H13 wear resistance
scores a 3 on a scale where 1 is low and 6 is high
.
H13 Steel tensile strength
H13 tool
steel has a
tensile strength of approx. 111.6 KSI
on delivery (0.145 KSI = 1MPa). In order to reach this value, a tensile test is performed to show how much force is needed to stretch or elongate a sample before it breaks.
H13 Steel yield strength
The
yield strength
shows how much stress can be applied to a material before it plastically deforms. Before this point it will return to its original form as soon as the stresses have been taken off the material.
When the point has been passed it will be deformed permanently or even break. The range for the H13 stainless steel is at
approx. 239 KSI
(approx. 1650 MPa).
H13 Steel Working hardness
The
working hardness
for H13 steel is in the range of
469 - 572 BHN
(50 - 56 HRC).
H13 Steel specific heat capacity
The specific heat capacity of H13 at room temperature is at 0.460J/g-°C (0.110BTU/lb-°F). This value shows how much heat is needed to heat 1lb of material by 1 Fahrenheit.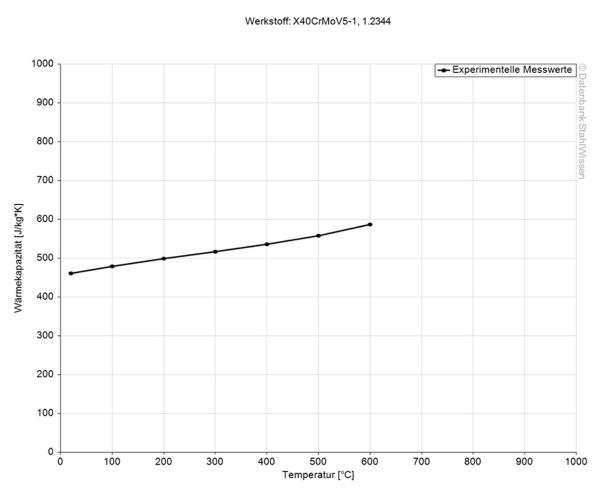 H13 Steel continuous TTT-diagram
The following diagram shows the micro changes over time at different temperatures which are important during heat treatment. They show the optimum conditions for the processes such as hardening, annealing and normalizing.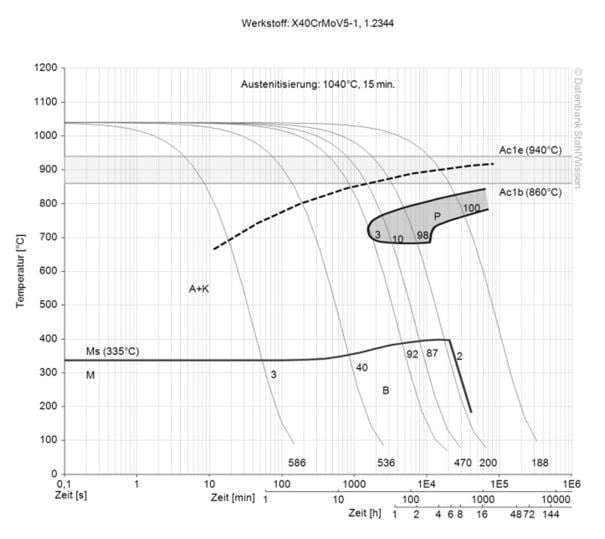 H13 Steel isothermal TTT-diagram
The following diagram shows the structural changes at micro levels over time at a constant temperature. It shows at what temperatures the different phases, e.g., perlite, martensite and bainite start to form.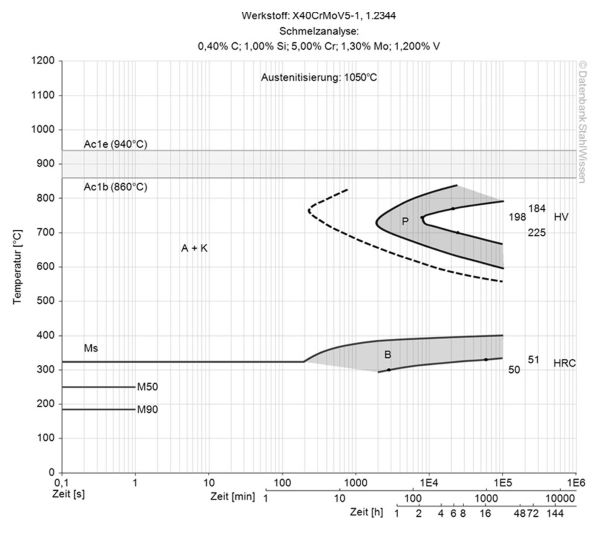 H13 Steel properties
H13 Steel hot work
Hot work steel like H13 can be exposed to continuous high temperatures. They have a high strength, hardness and thermal stability, toughness and wear resistance for a longer service life.
H13 Steel cold work
Cold working H13 is easier done in its annealed condition, heat treated, it is challenging due to its hardness and parts may work harden which in turn may cause breakage and wear. To relieve introduced stresses and give the parts their final properties they should be heat treated afterwards.
H13 Steel Density
At room temperature the
density
of H13 is
0.279 lb/in3
(7.8g/cm3).
Thermal conductivity of H13 steel.
The following table shows the heat conductivity for H13 steel in the annealed and hardened condition.


Heat conductivity table

| Value annealed | Value hardened | By temperature |
| --- | --- | --- |
| 27.2 | 25.5 | 68 °F |
| 30.5 | 27.6 | 662 °F |
| 33.4 | 30.3 | 1292 °F |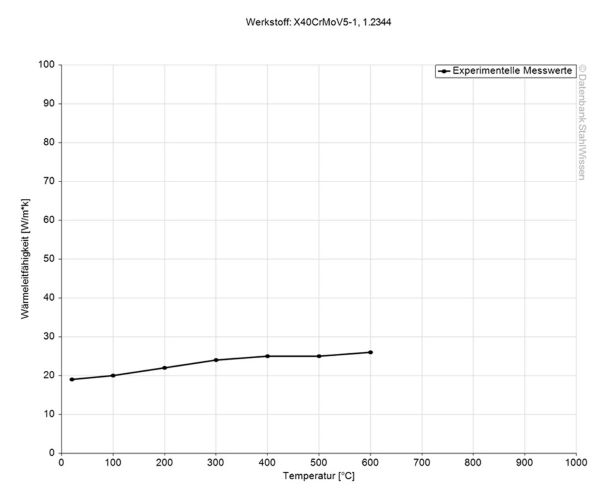 H13 Steel thermal expansion coefficient
This diagram shows how much H13 tool steel might expand or contract when the temperatures change, which can be very important when working with high temperatures or strong temperature changes.


Medium thermal expansion coefficient

| 10-6m/(m • K) | At a temperature of |
| --- | --- |
| 10.9 | 68 - 212 °F |
| 11.9 | 68 - 392 °F |
| 12.3 | 68 - 572 °F |
| 12.7 | 68 - 752 °F |
| 13.0 | 68 - 932 °F |
| 13.3 | 68 - 1112 °F |
| 13.5 | 68 - 1292 °F |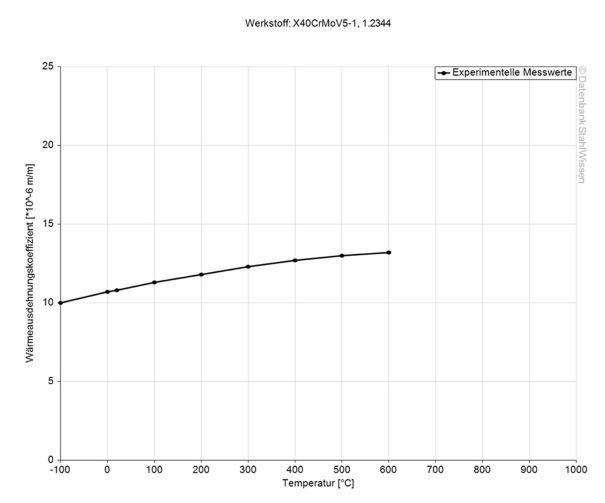 H13 Steel specific electrical resistivity
You can find the temperature dependent material constant (Resistivity) in the following table. The electrical conductivity is the reciprocal value of the specific resistance.


Table of the specific electrical resistivity

| Value | At a temperature of |
| --- | --- |
| ~0.543 (Ohm*mm²)/m | ~ 68 °F |
| ~0.638 (Ohm*mm²)/m | ~ 212 °F |
| ~0.705 (Ohm*mm²)/m | ~ 392 °F |
| ~0.782 (Ohm*mm²)/m | ~ 572 °F |
| ~0.868 (Ohm*mm²)/m | ~ 752 °F |
| ~0.96 (Ohm*mm²)/m | ~ 932 °F |
| ~1.06 (Ohm*mm²)/m | ~ 1112 °F |
H13 Tool steel modulus of elasticity (Young's Modulus)
The relationship between stress and strain of steel is described in the modulus of elasticity (Young's Modulus) and can be found in the table below with the according values and temperatures.


Modulus of Elasticity

| Value | At a temperature of |
| --- | --- |
| ~ 210.000 MPa | ~ 68 °F |
| ~ 205.000 MPa | ~ 212 °F |
| ~ 198.000 MPa | ~ 392 °F |
| ~ 191.000 MPa | ~ 572 °F |
| ~ 182.000 MPa | ~ 752 °F |
| ~ 173.000 MPa | ~ 932 °F |
Is H13 a knife steel?
H13 is
not commonly used as a knife steel
as although hard, H13 does not hold an edge for long. However it can easily be sharpened.
Conclusion
H13 tool steel has a lot of pros and cons. Though it has some corrosion resistance it needs good maintenance to prevent rusting. The H13 steel's inability to retain an edge doesn't make it an ideal option for crafting knives. However, its hardness allows for easy sharpening.
This material can be cold worked, but this grade of steel is better suited for hot work. H13 has high temperature stability, good thermal fatigue resistance, toughness and wear resistance.
H13 Tool steel datasheet
As a
steel supplier
we provide you with the
datasheet for H13 in PDF
format.
H13 Steel alternatives or equivalent
Search for an alternative Tool Steel with the ABRAMS STEEL GUIDE!
It is possible with just
one click
to
find a H13 steel alternative or an equivalent
steel grade!
We have the solution! (Registration is not needed).
Try it now - find an alternative steel grade and its properties in no time.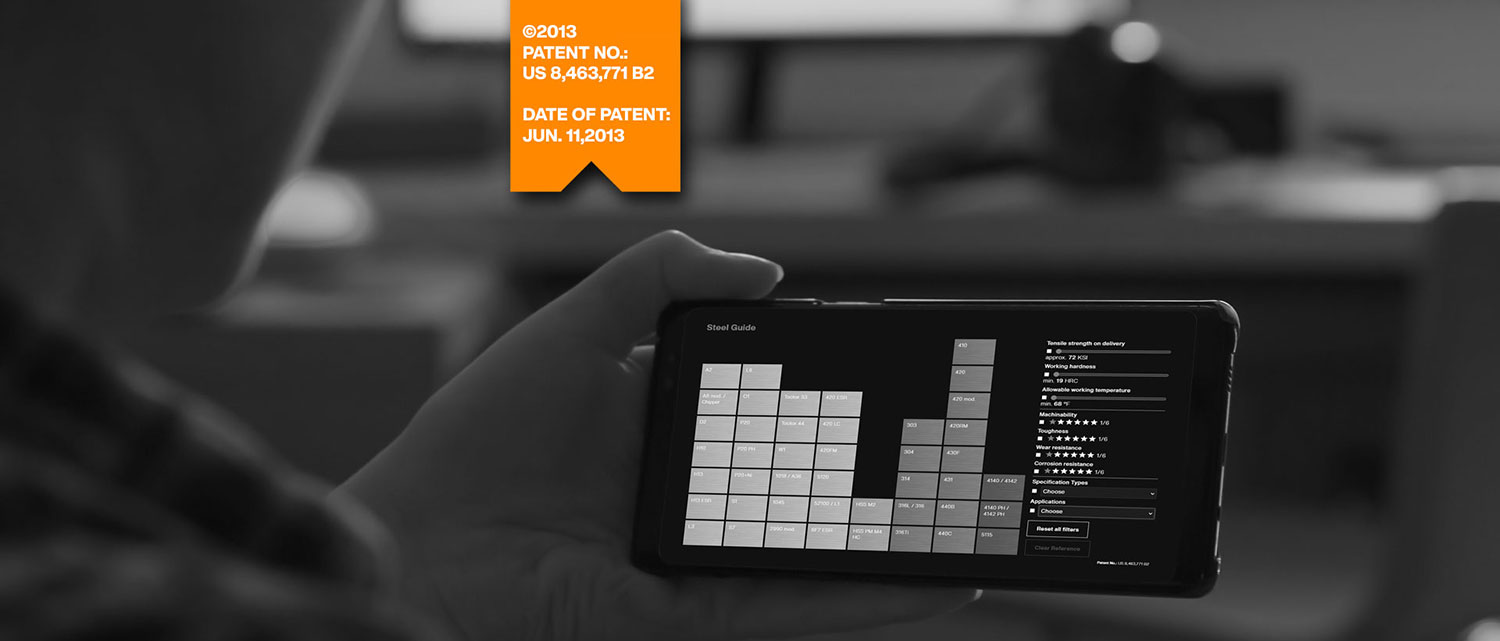 Disclaimer
The data shown here has been compiled with the greatest diligence and is regularly updated with regard to the correctness and completeness of its content. The content is indicative only and should not be taken as a warranty of specific properties of the product described or a warranty of suitability for a particular purpose. All information presented is given in good faith and no liability will be accepted for actions taken by third parties in reliance on this information. ABRAMS Industries reserves the right to change or amend the information given here in full or parts without prior notice.