Girls'Day 2023 review - ABRAMS Industries® DE Osnabrueck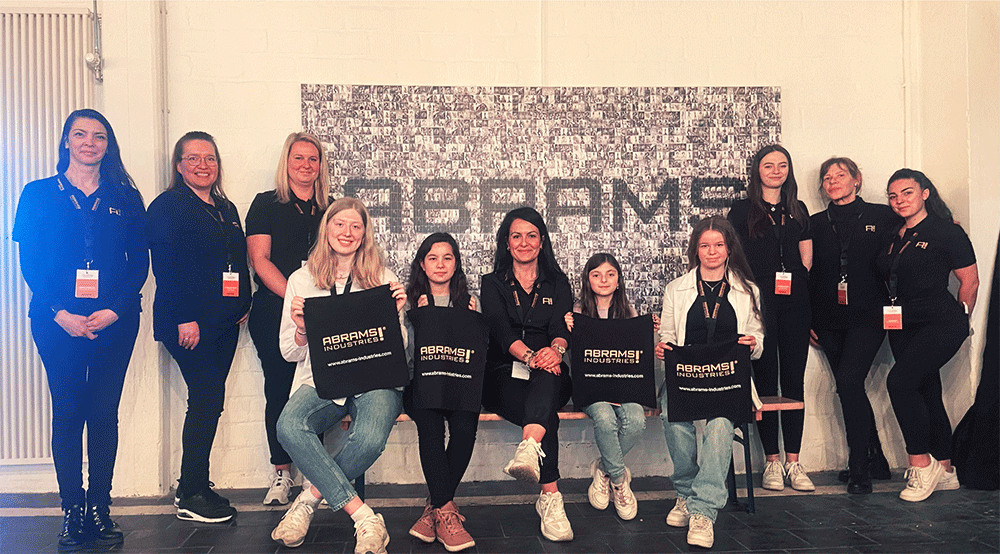 What is Girls'Day?


Girls'Day is a day just for girls where they can learn about different professions or fields of study. Girls can get an insight into the world of so-called "men's jobs" to discover if they like them. This way, they might find exactly what they want to be when they grow up. On Girls' Future Day, people can meet women in leading positions in business, science and politics and see what they experience in their jobs. The aim of the day is not to push any other people out of their fields, but to show girls and women that they can do and be anything they want.


Who organises Girls'Day?


This day is sponsored by the Federal Ministry for Family Affairs, Senior Citizens, Women and Youth and the Federal Ministry of Education and Research. It took place in Germany for the first time in 2001. So far, more than 2.1 million girls have taken part.


When was Girls'Day 2023?


This year, the annual Girls'Day took place across Germany on 27 April 2023. Our Federal Chancellor Olaf Scholz and Initiative D21 opened this year's day in Berlin on 26 April 2023, but it wasn't only the state capital that was busy, we also kicked things off here in Osnabrueck!


Girls'Day 2023 Review - ABRAMS Industries® DE participated!


The motto of this year's day was "I'm going to be a COO!"
The preparations


For ABRAMS Industries® DE it was the first time they took part in this career orientation day and it couldn't have been more exciting. Weeks before, the preparations were in full swing and the Girls'Day team worked enthusiastically to make the day as unforgettable as possible for their participants. On March 20, a whole month before the registration deadline, all the places were taken.


Ready, set, go - The Girls'Day kick-off!


On April 24. at 10 a.m. the time had come: we were allowed to welcome our female participants at the premises of ABRAMS Industries® DE!


After a short commotion while everyone arrived and found their way around, everyone received their name badge. In the ABRAMS lounge, our COO Ms. Nur H. Nezir officially welcomed everyone. She briefly introduced the ABRAMS Industries® DE company, its history and products and gave the floor to her individual team members.


One after the other the following introduced themselves:


- Constanze Panzer - Human Resources Officer, with ABRAMS for 14 years
- Danica Bergsieker - Purchasing and Sales Manager, with ABRAMS for 11 years
- Zaklina Radulovic - Sales Manager, with ABRAMS for 2 years
- Michaela Franke - Media Designer, with ABRAMS for 3 months
- Elisabeth Riedel - SEO expert, with ABRAMS for 2 years
- Lisa-Marie Fricke - Office Management Trainee, with ABRAMS for 2 years
Each of them spoke about their personal life and how they were interviewed by Ms Nezir throughout the hiring process.


The COO herself also talked about her personal career and how she became a part of the ABRAMS family.


Now, it was the girls' turn to introduce themselves:


- Matea (11), plays guitar and likes gymnastics and considers horses and cats her favourite animals.
- Esther Jane (12), is interested in architecture and design and is very curious to see what steel feels like.
- Charlotte (16), rides horses and motorbikes and would like to study law.
- Frieda (18), is a national and Bundesliga basketball player for the Girolive Panthers Osnabrück, is studying International Management and would like to know what the tasks and functions of a COO are.
After the round of introductions, Ms Nezir asked the first question: Why are the personnel officer, sales manager, purchasing and sales manager, media designer, SEO expert and the trainee for office management introducing themselves when the Girls'Day motto is "I'm going to be a COO!"?


With this question in mind, the tour of the company began.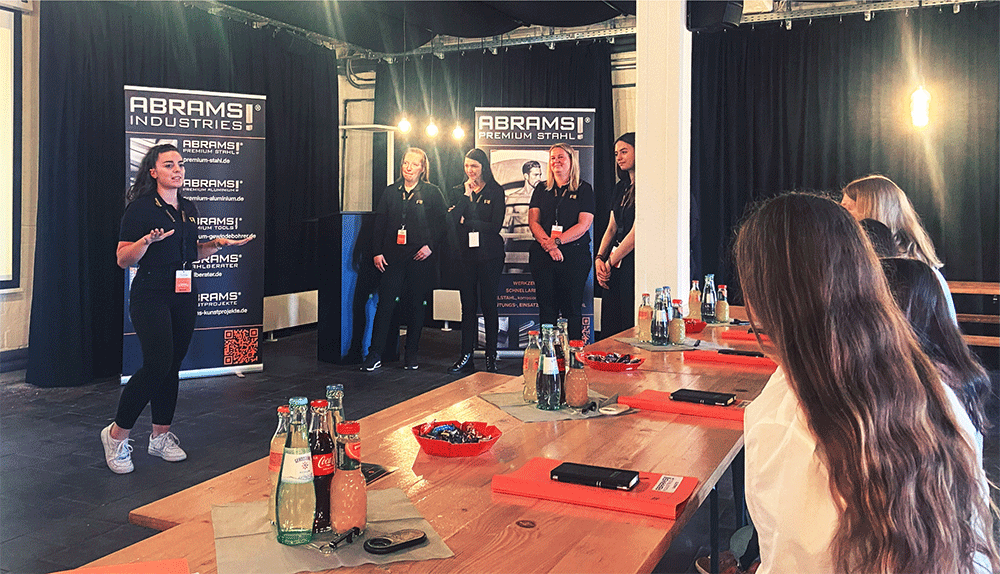 Tour of the ABRAMS factory


After that, the tour of our factory finally got underway!
Starting in the large lounge, we went straight into the hallowed halls of production. Between the large machines for sawing, milling and grinding (the core business of ABRAMS Industries® DE) and the heavy steel blocks, our eyes grew wide for the first time. Some of the machines were also allowed to be viewed up close, but at a safe distance during the machining process.


The tour continued through the warehouse, past large shelves with unprocessed material weighing several tonnes, and to the shipping department, where the girls were allowed to watch the material being packed up. Then it was off to the heart of ABRAMS Industries® DE - the sales department. Ringing telephones, lots of conversations and running printers creating invoices and quotations. This made their eyes grow wide for the second time. After they had briefly waved to the marketing department, the girls, accompanied by the team, continued on to the distribution department, where there were even more ringing telephones and international conversations from our colleagues.



Q&A session #1 & department tour


With all the impressions from the general tour in mind, the girls returned to the ABRAMS lounge, where they had sandwiches and juice while the team answered many questions about the company.


Once again, Ms Nezir sent the girls off with the same question as in the beginning - but now they got to see each individual department. So, the girls went to the desk of an ABRAMS colleague. There, practical examples were shown and insights into the responsibilities were given. At each station, the girls had about 30 minutes to immerse themselves in the different areas.


In the HR department, the recruiting processes were presented, in purchasing the search for suppliers, in distribution the preparation of offers, in sales conversations in different languages, in marketing the creation of layouts, and in SEO the use of ChatGPT.


This made it easy to get a good overview of the different tasks of the female managers.



Q&A session #2 and brainstorming


After the input in the departments, it was the perfect opportunity for the participants to ask their questions. From questions about manufacturing and sales, to general questions about the industry and the important question of what it is like to work as a woman in such a male-dominated industry.


While snacking on sweets, Ms. Nezir, the participants and the female staff members came up with a collection of ideas to finally solve the initial question: Why do the personnel officer, sales manager, intake and distribution manager, media designer, SEO expert and the trainees for office management introduce themselves when the Girls'Day motto is "I'm going to be a COO"?


The realisation was also found very quickly: A manager can only be good and successful if she has a good and reliable team behind her. Everyone must work hand in hand, rely on each other, be able and willing to hand tasks over and take responsibility. A manager cannot be successful without a team, and a team cannot be successful without a manager.
At around 3:30 p.m. the day drew to a close and we had to say goodbye to our great girls. It was fantastic to see how committed and involved everyone was.


With ABRAMS bags packed with gifts and an ABRAMS art calendar under their arms, they were collected by their parents. It was such an exciting day, also for us, and we were able to learn and take away so much from the participants.


At the end, each girl was allowed to sit in the boss' chair to give her conclusion, which we would like to quote here.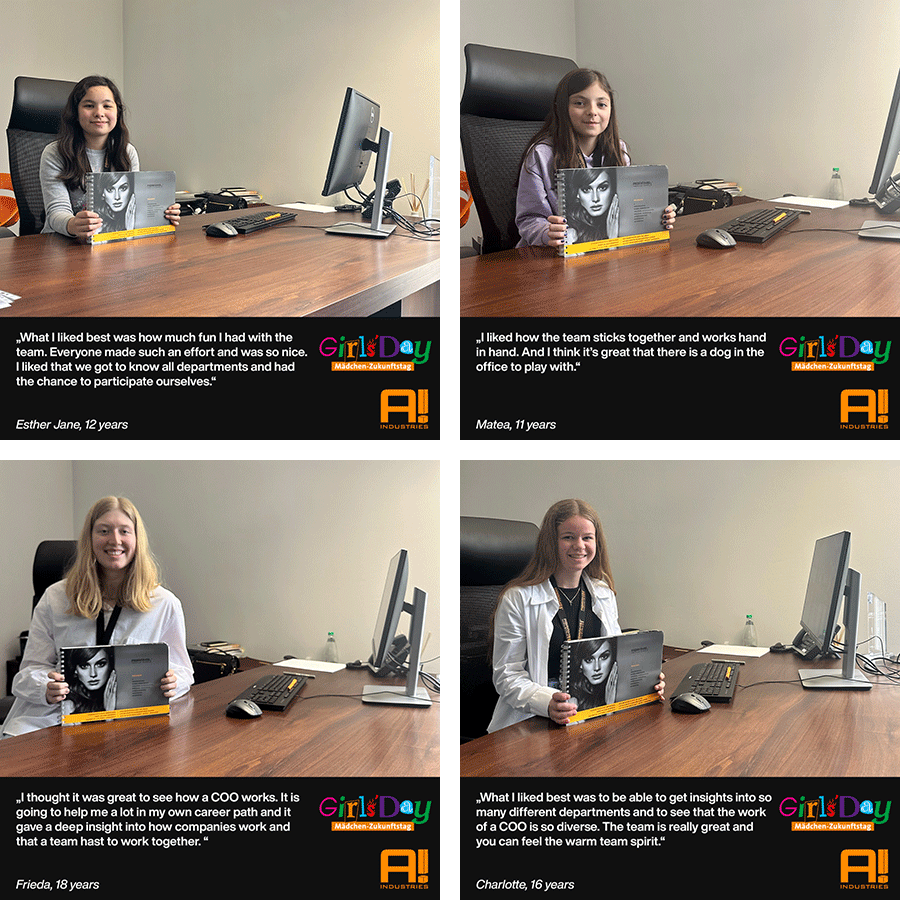 Ms Nezir would like to take this opportunity to thank her team for giving our Girls'Day participants an unforgettable day.


Thank you to everyone who was there, we really had a lot of fun!


When is Girls'Day 2024?


The next Girls'Day is on 25 April 2024 and we will definitely be there again.


See you next year!